SCROLL 👇🏻👇🏻👇🏻 DOWN
to view 2021 GALLERY.
2020 CONTEST PARTICIPATION:
🌎 32 Countries
Algeria, Australia, Austria, Brazil, Canada, Colombia, Costa Rica, Cuba, Ecuador, France, Georgia, Germany, India, Indonesia, Iran, Italy, Japan, Jordan, Lebanon, Mexico, Morocco, Panama, Puerto Rico, Russia, Slovenia, Spain, Switzerland, Taiwan, Turkey, United Kingdom, United States of America, Venezuela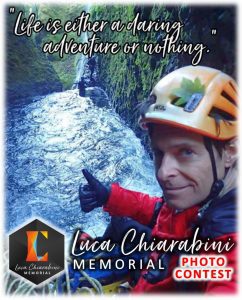 Luca Chiarabini Memorial Contest 2021, Round Jan-Apr is OPEN, closes 30 April 11:59pm CET. You can submit canyoning or caving photos & videos in 3 CATEGORIES: 1. CAVING, 2. CANYONING, 3. VIDEOS

We encourage you to visit and like the original social posts in the gallery below.
click on the picture in the gallery and then click on the icons as above. You can also visit the social account of the author.